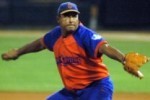 Sancti Spiritus baseball pre-selection initiates its preparation for the upcoming national season in the Jose Antonio Huelga Stadium under the lead of a new manager. Yovani Aragon will be the head coach of Roosters in the 52nd series.
Only 4 years have passed since Yovani Aragon Rodriguez left his selection for 16 seasons. The former hurler has currently been selected as manager of the team to which he played a key role as a member of the pitching staff.
His 156 victories placed him as the pitcher with most wins in Sancti Spiritus baseball which at present holds one silver and two bronze in national championships.
The consistency of Aragon's results led him several times to the Cuban national team. At an international level, he holds as greatest achievements the 1998 World Championship in Italy, when he was chosen as the best right-handed pitcher in the All Star Team, the Olympic silver in Sydney 2000, and the title of the 1998 Maracaibo Central American Games.
After his retirement, he was member of the Baseball National Commission and in the last months he performed as pitching coach of the Pericos de Puebla team in the Mexican Professional Baseball League.
Still without letting go the surprise, Aragon had some words for the readers of Escambray (local newspaper):
"I'm still astonished; this is the first time I assume such a difficult challenge. I'm looking forward to work, to make things right. I have accepted and now it's time to go on. Next week we will start the preparation with all the members of the pre-selection, the work will be tough. Let's see how things work".