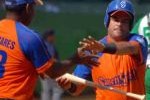 A nine-run rally in the second inning gave victory to Sancti Spiritus Roosters and put off Granma's expectations to fight for a playoff ticket while ensuring Roosters and Orangemen a place for the best 8 teams in the 51st Cuban baseball national season.
After an impressive start of Granma's Sorrels with 4 runs including a homer by 4th man in the roster Yordanis Samon, Sancti Spiritus Roosters fought back with the above-mentioned rally in the 2nd that banished every vestige of their rivals' proven combativeness up to that moment. The chapter was key in the team's final win 15×4.
Roosters' lefty rookie Javier Vazquez was a headstone for his team as he was able to contain his adversaries' impetuousness after the starter Noelvis Hernandez was beaten with 4 runs included.
Ruperto Zamora players fought for the game and treated Sorrels' pitching very roughly. Granma's hurlers provided the negative side of the encounter as they walked 4 Roosters and other 6 were hit by pitch. Sancti Spiritus Orlando Acebey shot a homer in the 8th, which validated the knockout score.
Roosters' victory guaranteed their qualification as well as that of Villa Clara Orangemen in the East region. Thus, for the third time in Cuban baseball history, the champion of the precedent season (in this case Pinar del Rio) does not get the ticket to playoff.
At present, the West zone has its four qualified for the next round (Matanzas, Industriales, Cienfuegos and Sancti Spiritus), while Villa Clara is the only one with passport to the upcoming phase in the East, where 4 teams (Las Tunas, Ciego de Avila, Santiago de Cuba and Granma) continue to fight for three seats.