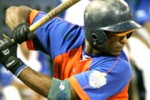 Cienfuegos avoided the sweep before Sancti Spiritus Roosters by winning in the last of the three-game series with a 6×3 score, as the first subseries of the 52 national season ended.
This time Roosters' pitching was not effective as in the two earlier games when they limited rivals to only 1 run in 18 chapters.
Elephants took the lead since the 2nd inning thanks to solo homer by Jose Dariel Abreu, and from that moment on they never lose the advantage, even if their visitors shot more hits (9).
Sancti Spiritus' defense play the devil with in the encounter, with 4 errors that cost half of Cienfuegos' runs to be unearned.
Roosters' best hitters were Livan Monteagudo (4-3, a triple, and 2R), and Yuliesky Gourriel who shot his first homer of the present Cuban series.
Elephants' best men were Yoelvis Leyva (3-2) and Lazaro Rodriguez (5-2), plus Jose Dariel Abreu with his solo homer.
The winning pitcher was Jorge. L Hernandez, Duniel Ibarra saved the game and lefty Yamichel Perez took the loss.
The first subseries of the Cuban baseball 52nd season ended with 5 sweeps as Mayabeque, Isla de la Juventud, Granma, Matanzas, and Las Tunas beat in three occassions Ciego de Avila, Villa Clara, Santiago de Cuba, Holguin and Pinar del Rio respectively.
The rest favored Sancti Spiritus-Cienfuegos, Industriales-Guantanamo and Camaguey-Artemisa (2-1).