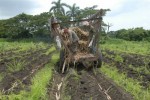 Around 150 legal experts will analyze on Friday and Saturday, February 3-4, the Cuban national agrarian legislation in tune with the new guidelines of the Cuban Communist Party.
National Association of Small Farmers' legal adviser Arturo Aliaga Cespedes told the media in Havana that the jurists will discuss the principal claims filed by farmers, particularly those made within the framework of the Association's congresses, from which many laws were dictated and added to the agricultural legislation of the country.
Aliaga Cespedes said two commissions will further assess the updates on the legislations, and analyze problems related to the contract of agricultural production, difficulties in terms of regulations and legal advisory services provided to producing units.
During the meeting, jurists are expected to propose modifications, updates and new norms. They will also study decree-laws recently put into force, as well as matters concerning credits, insurance and economic crimes. (Taken from ACN).