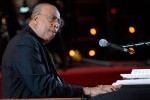 Pianist and composer Chucho Valdes and his The Afrocuban Messengers band won the Extraordinaire Award in the XVI International Fair Cubadisco 2012 with his record "Chucho's Steps".
The record was produced under licence by the Colibri Label that belongs to the Cuban Music Institute and has 8 tracks that mix in a perfect way the main characteristics of the Latin jazz with the Afro Cuban folklore.
Cubadisco's Great Prize went to Veinte Pianos (Twenty Pianos) by Ernan Lopez-Nussa, which also won the awards in the Didactic and CD-DVD categories and Lopez-Nussa was selected the Best Producer.
Other productions that received awards were Jose Luis Cortes and NG la Banda with Mis 22 Años, 30 años by Son 14, and Sueños del pequeño Quin, by Joaqui­n Betancourt and the Joven Jazz Band, with the Cubadisco Special Award.
The International Award went to Calle 13 and the Italian Gianluca Grignani, with their latest productions Que entren los que quieran and Romantico Rock Show, respectively.
The Colibri Label was the big winner of the night with 13 awards.
Taken from AIN