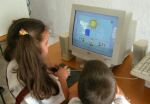 With barely three percent of schools with internet access, Cuba is working today on a portable version of the website www.cubaeduca.cu that has contents and suggestions for different school levels.
It is sad that only 356 schools, of more than 10,600 existing in the country, have internet access, said Ivan Barreto, Head of Educational Computer Science of the Education Ministry.
"The country is giving final touches to the portable version that we will distribute in all schools," he said of this initiative set to become the country's largest when all material conditions are available for its development.
Regarding the difficulties in the distribution in several formats, the expert said that the current option is more expensive, but it is a temporary solution to use information and communication technologies.
What would be unforgivable is to wait for the time when all material conditions are guaranteed, said Barreto, who is in charge of the production and distribution of educational software.
"We are focusing on developing tools based on the web 2.0 to exchange and produce contents among teachers, students and families," he said.
Barreto said the goal is to turn the website into a large community.
At the moment, some 200 people access the webpage on average (apart from those in the network Rimed), including users from the United States and Spain, he said.
Barreto said there are some 70,000 computers in schools, but they are mostly obsolete, resulting in high maintenance costs, and noted that the Education Ministry spends 15 million pesos (15 million USD) every year, including four million USD, in maintenance and replacement of parts and computer hardware.