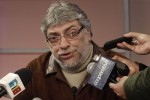 The Cuban government will not recognize any authority in Paraguay if it does not stem from the legitimate suffrage and the exercise of sovereignty by the Paraguayan people, reads a note issued by the Cuban Foreign Ministry condemning the recent coup that ousted President Fernando Lugo.
The Cuban government strongly condemns the parliamentary coup perpetrated against constitutional President Fernando Lugo and the people of Paraguay, reads a note.
Actions like this one aim at thwarting progressive changes and genuine Latin American and Caribbean integration in "Our Americas",  reads the note.
The coup in Paraguay adds to a long list of attempts against the self-determination of Latin American nations, which have always been perpetrated by the oligarchy, and with the responsibility, complicity or tolerance of the US administration, says the Foreign Ministry.
In the note, Cuba denounces that  after decades of bloody military dictatorships, which murdered hundreds of thousands of people and imposed state terrorism and torture with full impunity, the violent and anti-democratic strategy has been retaken, first with a military coup and an oil strike against Venezuela's Bolivarian Revolution; a destabilizing and separatist attempt against Bolivia; a military coup against progressive forces in Honduras, and later a coup attempt against the Revolution in Ecuador.
The note adds that the Cuban government will maintain its medical cooperation, which is strictly humanitarian, at the service of the Paraguayan population.
Therefore, the "Maria Auxiliadora" Ophthalmological Center, which has helped some 18 000 Paraguayans recover their sight, will continue to operate as long as necessary, concludes the note signed by the Cuban Ministry of Foreign Relations.
Taken from AIN