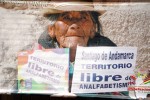 Cuba ratified its willingness to continue the struggle against illiteracy in the world, where there are about 800 million illiterate people, and 38 million children with no access to primary education.
Cuba reiterates its willingness to fight that scourge with humble but proved experiences in favor of humanity, Education Minister Ena Elsa Velazquez told the press.
Velazquez called attention to the constant work carried out by Cuban teachers to eradicate illiteracy, an effort that left significant results in over 28 countries worldwide, through using the methods "Yo Si Puedo" (Yes, I Can) and "Yo si puedo seguir" (Yes, I Can Continue).
Cuba currently redoubles efforts to raise education quality at all levels, improve pedagogical work and the development of vocational training and professional guidance, destined to the specialties needed by the country for its economic and social development, the minister said.