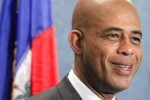 Haitian President Michel Joseph Martelly will arrive in Cuba, Tuesday, on an official visit.
During his stay on the island, Martelly will hold official talks with Cuban President Raul Castro and will carry out other activities, Granma newspaper reported.
Michel Martelly was born February 12, 1961 in Port au Prince. He was elected Haitian President in November 2010 and took office on May 14, 2011.