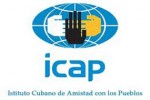 The Primero de Mayo International Brigade, comprised of activitists from 22 nations, arrives in Cuba on Monday to attend May Day celebrations. A bulletin issued by the Cuban Institute of Friendship with the Peoples (ICAP) stated that this time, about 260 brigade members from 22 countries of the five continents will arrive in Havana.
The delegation with more participants is Chile with 40 members, followed by Nigeria with 38, Brazil with 37, Peru with 28 and the United Kingdom with 20 activities.
During their stay here, the brigade members will participate in the central rally to celebrate the International Workers' Day, and carry out voluntary agricultural works.
According to the ICAP, the visitors will also talk with relatives of the five Cuban antiterrorist fighters unjustly held in U.S. prisons over 13 years ago.
Antonio Guerrero, Fernando Gonzalez, Ramon Labañino, Gerardo Hernandez and Rene Gonzalez were arrested on September 12, 1998 in Miami. An irregular process celebrated there condemned them in 2001 to sentences going from 15 years up to the double life imprisonment.
Many personalities and world organizations have defended the Five, as they are known internationally, who only monitored activities by violent groups of Cuban origin in Florida to alert their country from terrorist acts.
On May 2, the activists will attend along with other foreign delegations the traditional Meeting of Solidarity that the Cuban Workers Federation organizes every year at the Havana's Conference Center.
Taken from Prensa Latina