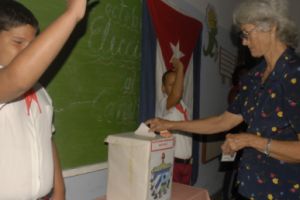 Since very early this October 21st, there's been a constant coming and going everywhere in Sancti Spiritus, since many people wanted to be the first to arrive in each of the 1 202 polling stations opened in this central Cuban territory.
Nearly 360 000 local residents will vote today to elect the delegates to the Municipal Assemblies of the People's Power for the next term of office. As usual, each plebiscite in Cuba becomes a popular celebration that begins with the free and secret vote of all fit citizens.
Voting will be possible from 7:00 A.M. to 6:00 P.M. Thousand local residents are voluntarily involved in this electoral process, including the members of the Cuban pioneers' organization who are in charge of guarding the ballot boxes.
The second round of the elections will be held next October 28th in those constituencies where none of the candidates got over 50% of the valid votes.
General elections take place in Cuba every five years to vote for the delegates to the Municipal and Provincial Assemblies of the People's Power, as well as the deputies to Parliament.
On the other hand, partial elections are held every two and a half years, so, grassroots representatives are the only ones to be voted for in both occasions.
[nggallery id=35]