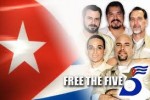 Havana and Washington simultaneously host today a video conference, to analyze recent actions in favor of five Cuban antiterrorist fighters convicted in the United States.
The forum brings together lawyers, activists from solidarity groups, and relatives of Gerardo Hernandez, Rene Gonzalez, Ramon Labañino, Antonio Guerrero and Fernando Gonzalez, who were detained in September 1998 for monitoring Miami-based violent groups operating with impunity against Cuba.
According to organizers, the video conference will allow public sectors to learn legal details presented by the defense of the Five.
U.S. lawyer Martin Garbus recently introduce an affidavit on behalf of Gerardo, sentenced to two life term plus 15 years, which shows Washington's unconstitutional stance in the trial against the antiterrorists.
The 80-page document submitted to the Florida's Court collects plenty of information on payment by the U.S. government to journalists with the objective of predisposing the jury and the Miami community before and during the trial.
Only The Miami Herald and El Nuevo Herald published 1,111 hostile materials in within 194 days, closing on June 8, 2001, when the Five were convicted.
Among participants in the conference held in the United States are Garbus, lawyer Raymond Steckel, former Prosecutor General Ramsey Clark, and activist Gloria La Riva, coordinator of the National Committee to Free the Five.
Meanwhile, Mirta Rodriguez, mother of Antonio Guerrero, and Gerardo's wife, Adriana Perez, will be present in the Havana event. Washington has repeatedly denied Adriana a visa to visit her spouse, identical situation to that suffered by Olga Salanueva, wife of Rene.
Taken from Prensa Latina