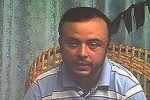 The People's Provincial Court of Granma, eastern province of the island, set for October 5 the public trial for Spanish Angel Francisco Carromero, involved in an accident that killed two people.
According to an article published on Cubadebate website, the trial will begin at 09:00 local time in the city of Bayamo -744 kilometers east of the capital, and it corresponds to case number 455 of 2012, followed by the crime of homicide.
Carromero is accused of driving the car involved in an accident that occurred last July 22 at kilometer 724 of the Las Tunas-Bayamo highway.
During an interview in late July, the accused said things that coincided with the version of experts and witnesses to the crime, who established excess speed as the cause of the crash.  (Taken from PL)