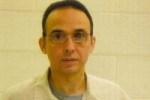 Antonio Guerrero, one of the five Cuban antiterrorist fighters unjustly held in U.S. prisons, shared justice and patriotism with his compatriots in Egypt, who celebrated the 159th birthday of Cuban National Hero Jose Marti on Saturday.Cuban Ambassador to Egypt Otto Vaillant read to the members of the Cuban community here a letter written by Guerrero, on the occasion of the traditional ceremony to remember Marti every January 28 at his bust in the Hurreiya Park, on the island of Zamalek.
"Do not ever doubt that we will continue resisting the unjust punishment with the steely strength of our heroic people," stated Guerrero in his letter, which also alluded the imprisonment of Rene Gonzalez, Ramon Labañino, Fernando Gonzalez and Gerardo Hernandez.
The Five, who have been held in U.S. prison for more than 13 years, were tried in Miami and sentenced to unjust and harsh sentences for having infiltrated counterrevolutionary groups that planned terrorist attacks on Cuba.
The Cuban group in Egypt, including diplomats, workers and residents, laid white and red flowers at Marti's bust, and four pioneers from the embassy held a similar ceremony on behalf of the youngest generations. (Taken from PL).