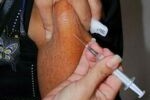 Over half a million Cubans will be administered the vaccine against seasonal flu from November 20 to December 15, Cuban health authorities announced.
The campaign stipulates the vaccination of all persons over 85 years of age, who total 150 thousand, and the population included in what is known as major vulnerable groups, particularly those people who could suffer from pneumonia.
The vaccine protects the population against the viruses causing Influenza A and Influenza B, which have affected the people this year, the announcement explains.
The immunization will take place according to the regulations established by the National Vaccination Program to guarantee its quality, reads an article posted on Granma newspaper.
Cuba has launched flu vaccination campaigns over the past 13 years in the same period of the year given the increase of seasonal acute respiratory diseases from October through March, particularly the flu which constitutes a health problem.
The seasonal flu is characterized by its fast appearance with high fever, cough and muscle and articulation pains, headaches and sore throat. The symptoms tend to disappear in a week in most patients, the article reads. But for people in risk groups the flue may turn into a serious condition.