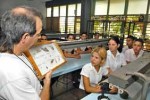 Cuba will give priority to the technical and professional education in the next academic year to begin in September, as a way to contribute to the process of changes in the economy and society.
Participants at 2012-2013 academic year National Training Seminar, which concluded in this capital yesterday, considered strategic that educational subsystem for the success of the economic model passed at the 6th Congress of Cuba's Communist Party in April 2011.
Apart from giving  priority to technical carriers, such as agriculture, construction, and transport, it is expected the entering of about 47,000 students to school to be trained as skill workers, about 2000 more of those who entered the current academic year.
Juventud Rebelde daily recalled that the registration at those schools was 2077 students three years go, and now is 60,000.
Presidential advisor Jose Ramon Fernandez, Minister of Education Ena Elsa Velazquez, and Vice President of the Council of Ministers Miguel Diaz-Canel attended the National Training Seminar. (Taken from PL)