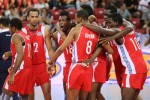 Cuba swept Brazil in three straight sets in the first day of the final stage of the 2012 FIVB Volleyball World League, underway in Sofia, Bulgaria. Sancti Spiritus Rolando Cepeda scored 12 points, second best in the national team.
According to the event's website, Cuba only needed one hour and nineteen minutes to beat the favourite Brazilian team, runner-up in 2011, 3-0 (25-19, 26-24 and 25-22) led by its captain Wilfredo Leon, who scored 15 points.
Leon led the Cuban offensive with 9 points for spikes, one block and five aces, followed by his team-mates Rolando Cepeda (12) and Henry Bell (11). On the Brazilian team the top scorers were Sidnei dos Santos (13) and Walace de Souza (11).
The game's stats show that Cuba was better in blocks, serves and non forced errors, 10-6, 8-3 y 15-26, in that order while Brazil led the attack 41 to 32.
Tomorrow Cuba will have the day off while Brazil faces Poland in group F. On Friday Cuba will play against Poland in the last game of this preliminary stage.
Taken from AIN