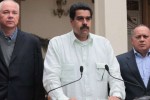 Venezuelan President Hugo Chavez is on a post-operatory stage following a surgical procedure on Tuesday, said executive vice-president Nicolas Maduro.
According to PL news agency, Maduro said in Caracas that the medical team treating Hugo Chavez concluded after a six-hour successful surgery.
"Commander Hugo Chavez is already in his hospital ward under the special treatment indicated by the medical team and experts, under the advice of doctors and specialists from Venezuela, Cuba and other parts of the world", said Maduro, who explained that the post-operatory stage will take some days.
The vice-president said they will release information on a daily basis about the situation of the Venezuelan president.
"The surgery was complex and the doctors have been in permanent contact with us; we have experienced very complex moments", said Maduro.
The top government Venezuelan official said that Chavez is accompanied by his relatives and members of his cabinet, such as Parliament president Diosdado Cabello, General Attorney Cilia Flores, Science minister Jorge Arriaza, and Mining and Oil minister Rafael Ramirez.
Maduro reiterated his gratefulness for the expressions of affection received from different regions.
Venezuelans Pray for Chavez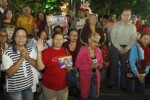 The Bolivar Plazas in all major cities of Venezuela were the places chosen by Venezuelans to come together to pray for a speedy recovery for President Hugo Chavez, who underwent successful cancer surgery in Havana on Tuesday.
The day of prayer in Caracas was attended by members of Chavez's government team, led by Vice President Nicolas Maduro. Speaking to those present, Maduro invited all Venezuelans to light a candle to enlighten "the wisdom of doctors" taking care of Chavez and also for the president "to gather up courage and grow in wisdom" during his recuperation.
"We will overcome this situation and the Revolution will continue its course through this century and other to come," Maduro was quoted as saying by TeleSUR TV.
The Venezuelan vice president also took the opportunity to thank the people of Cuba and its leaders Fidel and Raul Castro for the medical attention given to the president throughout his battle with cancer. And he stressed that President Chavez is another beneficiary of the Barrio Adentro Mission, which was born thanks to an agreement reached between the two governments.
In addition, Vice President Maduro noted that the campaign in the run-up to the regional elections on December 16th is scheduled to end in two days. In that regard, he called to make a definite effort to present Chavez a political map dominated by socialist forces and the Great Patriotic Pole.
Venezuelan President Hugo Chavez underwent surgery on Tuesday following the recurrence of malignant cells in the same area where the previous operations were performed.  Taken from (RHC)