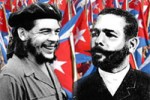 In an action of patriotic and revolutionary reaffirmation, all Cuban children and youths paid tribute to Cuban-Argentinean guerrilla Ernesto Che Guevara and Independence Hero Antonio Maceo in the anniversary of their birthdays.
The tribute to the two great heroes was the first activity held in over 8 thousand education centers. The occasion is also used to award students with the "June 14 Distinction",  a prize to the good academic and integral results of the students, said the vice-president of the Jose Marti Pioneer Children Organization Manuel Varela in statements to the Cuban News Agency.
A similar activity takes place every January 28, marking the birthday of National Hero Jose Marti, and on April 4, commemorating the birth of the Young Communist League and the Pioneer Children's organization, said Varela.
The Homage paid to Che and Maceo is usually an annual activity to acknowledge those students who concluded their high-school studies and award them with the distinction "Followers of Che", which entails an exemplary performance of the youths who are members of the Jose Marti Pioneer's Children Organization, Valera explained.
Taken from AIN