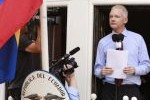 Cuba strongly rejects the threats by the government of Great Britain to revoke the inviolability of the Ecuadorian embassy in London and raid its diplomatic mission.
The statement was made by Cuban Foreign Minister Bruno Rodriguez at the 9th Extraordinary Political Council of the Bolivarian Alliance for the Peoples of our Americas (ALBA), held over the weekend in Ecuador.
Bruno Rodriguez said: "This threat constitutes a hostile act, an unquestionable violation of international law and an attempt against the sovereignty of Ecuador, while it offends our Americas."
Cuba's foreign minister cited Article 22 of the 1961 Vienna Convention on Diplomatic Relations, which stipulates that "the premises of the mission shall be inviolable."  The Article continues: "The receiving State is under a special duty to take all appropriate steps to protect the premises of the mission against any intrusion or damage and to prevent any disturbance of the peace of the mission or impairment of its dignity."
Havana's top diplomat said that Cuba underscores the need for strict respect for the Vienna Convention and emphasizes that the privileges, inviolability and immunity of the Ecuadorian embassy must be guaranteed.
Foreign Minister Bruno Rodriguez said: "Cuba will resolutely support the actions that the Ecuadorian state may undertake to defend its sovereignty, which translates into the defense of international law, and the defense of the sovereignty of all our countries and of our Americas."   (Taken from RHC)