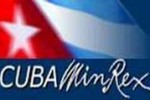 The Cuban government conveyed messages of sympathy to the governments and people of the Bahamas, Haiti, Jamaica, Canada and the United States regarding the devastation left behind by Hurricane Sandy.
In separate messages sent to the governments of those nations, Havana "expresses the deepest condolences of the Cuban people and government (…) to the people directly affected by this tragedy and especially to the families of the victims," ​​said a statement from the Cuban Foreign Ministry, published on its website Cubaminrex.cu.
On its way through the U.S. East Coast, Sandy left more than 40 people dead, plus millions in economic damage. 67 people were killed in the Caribbean area, causing great harm to the already economically disadvantaged populations of the region.
Sandy, the second deadliest hurricane to have hit Cuba in half a century after Dennis, that left 16 dead in July 2005, caused 11 deaths in the island.