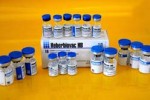 As a result of mass immunization campaigns with Heberbiovac HB, Cuba eliminated viral hepatitis type B, considered a severe infection of the liver, in children under 15 years of age.
Dr. Maira Fonte Reyes, a specialist in Hygiene and Epidemiology and a Masters in Infectious Diseases, told Granma newspaper that in the last 23 years there has been no reports of a single case of this disease in children.
The vaccination campaigns also reduced the incidence of this disease in the country in a 99.04 percent, which means the decline from 2 194 cases reported in 1989, to only 21 at the end of 2011, in people over 30 years of age.
This condition is caused by one of five identified virus, up to date, causing inflammation of the liver, that when acquired at an early age, essentially, can become chronic, and cause acute liver failure, cirrhosis and cancer.
All Cuban children began to be vaccinated at birth from 1992 with Heberbiovac HB, a domestic production of the Center for Genetic Engineering and Biotechnology, which provides lifelong protection.
Immunization against this scourge was extended to students and groups of risk, so now the whole population under 31 years is immunized against the disease. (Taken from ACN)