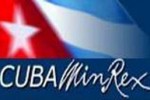 The Cuban Ministry of Foreign Affairs (MINREX) rejected the content of a report on human rights issued by the U.S. Department of State, for considering it a justification to maintain its anti-Cuban policy of hostility.
Lies and distortions included in this document only respond to the desperate necessity for the White House to justify the cruel policy of blockade on Cuba, increasingly rejected inside and outside the territory, the declaration states.
"We categorically reject the content of the report (…) about the situation of human rights in Cuba that the U.S. government claims right to issue, ignoring its own record of abuses within the country and in the world," the text noted.
As occurs with the unjust and unfounded inclusion in the list of nation sponsors of terrorism, Cuba's point two in this report has nothing to do with the real situation of human rights in the Caribbean country.
Cuba has done a fundamental contribution on human rights in the country and in the world, states the MINREX release.
Many of the rights the Cubans enjoy and have ensured are an illusion for most of peoples of the planet, including an important part of that of the United States, the MINREX stated.
Cuba's presence in other countries can only be associated to the humanitarian work of healing and teaching, in contrast to Washington's aggressive and interventionist adventures that continue causing innocent victims among the population of many nations, the MINREX declaration said. (Taken from PL)