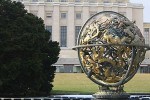 Cuba reiterated today in the UN Human Rights Council its rejection to any attempt to undermine the independence, sovereignty and territorial integrity in Syria.
We condemn the attempts to impose the Syrian people a regime change and we warn on an armed action aimed at making excuses to justify an aggression, said the Cuban ambassador to the UN in Geneva, Rodolfo Reyes.
In his address in the general debate of the High Commissioner for the Human Rights, Navanethem Pillay, Reyes noted that it corresponds to the Syrian people, with their authorities, to determine the ways and means to address and implement the popular will.
Reyes recognized Mrs. Pillay's commitment in relation to several priority topics and noted the programs aimed to the struggle against racism and xenophobia, particularly against African descendants, Muslims and migrant workers.
These phenomena -he said- have political and institutional manifestations in Western Europe and the United States, of serious consequences at present and worst impact in the near future.
The diplomat considered indispensable the condemn of serious violations of the human rights committed by several countries from the north, like the decision to keep the center of arbitrary arrests and tortures in the U.S. Naval Base in Guantanamo and NATO's crimes against innocent civilians in their aggressions to developing countries.
Reyes also referred to the growing repression to pacific protesters that loose their rights and basic life guarantees to benefit the increasing wealth of transnational financial groups.
He also talked about the use of modern technologies -as the so called drones- and intelligence operations to carry out extrajudicial executions.
Taken from Prensa Latina