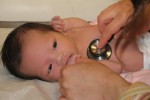 Cuba reported a reduction of its infant mortality rate to 4.5 deaths in every live births so far this year.
Health authorities told Cuba television that the achievement was thanks to the efforts and work of health specialists throughout the country, who were also able to lower the maternal mortality indicator, according to PL news agency.
Cuba's achievements in the area compare to infant mortality rates in highly developed nations, said the health authorities.
The island reported a 4.9 percent infant mortality rate last year, an indicator that kept the island in a leading position in the Americas among the countries that reported indicators below five percent.