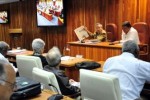 Chaired by Cuban President Raul Castro, an expanded meeting of the Cuban Council of Ministers was recently held in Havana, which had as its first point on the agenda the debts of state companies between December 2011 and July 2012.
Addressing the issue, the Cuban president underlined the need to work with rigor and discipline to eliminate the lack of organization, which leads to waste, theft and negligence.  He said that companies must abide by agreements reached and respect laws, otherwise it would be very difficult to advance in the updating of the country's economic model.
Marino Murillo, Vice President of the Council of Ministers, reported about adjustments made to the policy of retail prices in accordance with the Guidelines approved by the 6th Congress of the Cuban Communist Party.  He said that their main objectives are aimed at establishing the principles for the formation of prices that guarantee monetary balance between the income of the population and retail commercial circulation.  He added that the proposal now made, after profound study, is aimed at adapting the policy of retail prices to the updating of the island's economy.
At the meeting, Leonardo Andollo, of the Permanent Commission for Implementation and Development, explained the proposals to improve the performance of the Institute of Physical Planning and Housing, a decision that has as a starting point the changes approved in procedures related to the transfer of home ownership and the strengthening of the country's territorial and urban order.
Domestic Trade Minister Mary Blanca Ortega informed the members of the Council of Ministers about the rentals of state facilities to self-employed workers in the service sector.
The President of the Council of Ministers affirmed that the implementation of the new forms of management represent another step forward in the updating of the Cuban economic model, which contributes to free the State from the burden of these activities.