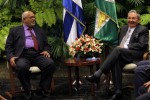 Army General Raul Castro, President of the councils of State and Ministers, met on Thursday afternoon with Donald Rabindranauth Ramotar, President of the Cooperative Republic of Guyana, who is on an official visit to Cuba.
During the fraternal meeting, the two presidents spoke about the state of bilateral relations and of cooperation between the two countries, as well as about other topics of regional and multilateral interest.
Participating in the meeting were Carolyn Rodrigues Birkett, Minister of Foreign Affairs of Guyana, and Esteban Lazo and Bruno Rodriguez, Vice-president of the Council of State and Foreign Minister, respectively.