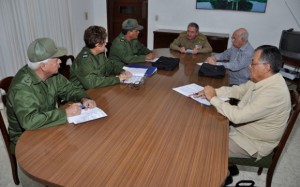 Cuban president Raul Castro visited the devastated areas in the eastern region of the island as well as the central provinces to assess the damages caused by Hurricane Sandy.
Raul arrived in Santiago leading a group of top officials, including First Vice-President Jose Ramon Machado Ventura, VP Adel Yzquierdo, and several ministers, reported the National Television Newsreel.
The delegation was briefed by First Secretary of the Communist Party in that province, Lazaro Exposito, on the main damages; especially in four municipalities where over 130,000 houses were partially or completely destroyed.
Exposito said the electric grid, agriculture, communications infrastructure, the school and health systems, and production centers were severely affected. Transportation and commerce scratched to a halt in the first hours after the passing of the storm, but have gradually started to provide services again.
Raul urged the local authorities in the eastern provinces of Holguin, Santiago de Cuba and Guantanamo to use efficiently the resources the central government allocated in that area to help solving the people's problems as soon as possible.
On his way to Santiago, Raul stopped in the Cuban central provinces of Villa Clara, Sancti Spiritus and Ciego de Avila, where he received information on the conditions resulting from the heavy rains associated to Hurricane Sandy. In Ciego de Avila, the president of the Council of Defense, Felix Duarte, reported no damages in the agriculture and on the other hand situation was favorable for the reservoirs that had received millions of cubic meters of water.
Raul asked the leaders of the central provinces to send larger supplies of agriculture products to Eastern Cuba, especially to the provinces battered by the hurricane.