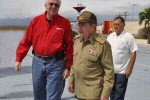 Cuban President Raul Castro received Rafael Ramirez, vice president of the government of the Bolivarian Republic of Venezuela, who arrived in the Santiago de Cuba's Antonio Maceo Airport this Thursday.
Ramirez told the press that he is in Cuba at the request of Venezuelan President Hugo Chavez to assess directly in the ground, along with the Cuban authorities, how to provide assistance to mitigate the effects of the damages caused by Hurricane Sandy, reported Granma newspaper.
He said that Venezuela does not come to give what's got in excess, but to share what it has, especially with this country that has been so supportive to us.
Ramirez and Raul toured the historic center of Santiago and some of the neighbourhoods to assess how bad the situation was after Hurricane Sandy pounded this city last week.
The Venezuelan delegation also visited the community made up by 100 petrocasas, which their government donated to Cuba five years ago. These building hardly experienced any damages.
Along Ramirez came brigadier general Juan Garci­a, Minister of Land Transportation; general Luis Diaz, head of the Civil Ptrotection Department; Nelson Rodri­guez, Housing deputy Minister and Owen Manrique, director of PDVSA.
On the Cuban part, accompanying Raul Castro, were Adel Yzquierdo, Ministry of Economy and Planning, and Ramon Espinosa Marti­n, Defense deputy Minister.
At the end of the tour, officials from both countries had a working session, where they recieved detailed information on the current situation in the province from Lazaro Exposito, Santiago's First Secretary of the Communist Party.
Minister Izquierdo gave the visitors an update on the recovery works, whose priority, he said, is to re-establish basic services to the population and to provide shelter to the victims of the hurricane.
Ramirez outlined some preliminary course of action for Venezuela to help. The other members of the delegation contributed with some ideas as well.