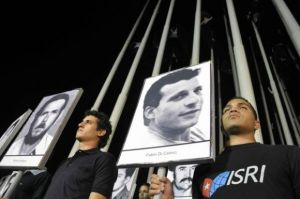 Cuban youths, students and workers will stage a vigil on Friday to pay homage to some 3 500 victims of terrorist acts committed against the island over the past five decades.
Participants will gather at the Park of Flags, on Havana's seafront drive and in front of the building hosting the US Interest Section to mark Terrorism Victims Day, on October 6, a date established to commemorate the terrorist bombing of a Cubana airlines jet in mid air, back in 1976, off the coasts of Barbados, which killed all 73 people on board.
The vigil will be a scenario to denounce the double standard policy maintain by Washington's war on terror as the White House continues to blacklist Cuba as a state sponsor of terrorism, while the Cuban people have been the target of such criminal actions for having decided to build and develop a socialist society.
Well known as the man who masterminded the 1976 bombing of Cubana 455 flight in Barbados, terrorist Luis Posada Carriles freely walks the streets of the US city of Miami under the protection of the US administration, which claims to be waging a crusade against terror, said the daughter of the pilot of the bombed Cuban airliner, Odalys Perez, in statements to PL news agency.
Perez is one of many, who are demanding that justice be made against the perpetrators and authors of the violent actions that claimed 3 478 Cuban lives and  left another 2 099 mutilated.
Participants at the vigil will also demand freedom for Gerardo Hernandez, Rene Gonzalez, Antonio Guerrero, Fernando Gonzalez and Ramon Labañino, who are the five Cuban antiterrorist fighters held in the U.S. since 1998 for having monitored US-based ultra-right organizations that have planned and carried out terrorist actions against Cuba over the past five decades.
The five Cubans risked their lives, their families and their happiness to try to prevent terrorist acts such as the one that took my son's life, said Giustino Di Celmo, father of an Italian youth killed in 1997 during a wave of sabotages unleashed against Cuban tourist facilities.