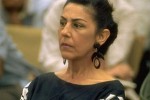 Acknowledged as a symbol of modesty, humanism and revolutionary fervor, Cuban heroine Celia Sanchez Manduley is remembered in different ways throughout Cuba.
Tributes are numerous, systematic and varied in the eastern province of Granma, where the exemplary woman was born on May 9, 1920 and became one of the dearest personalities on the island.
On this occasion, the popular tribute brings together people who knew Celia, the first woman to join the Rebel Army -students, housewives, combatants, farmers and workers, above all in the municipalities of Media Luna, her birth place; Pilon, where she lives for 16 years; and Manzanillo, where she carried out clandestine actions.
A municipal culture festival was organized in Media Luna, which began on Saturday and will run until Wednesday and that included artistic presentations. Wreaths were also placed by the monument to this patriot at the Park to the Martyrs.
The museum located at the house where the heroine was born welcomed a fair, which included exhibitions craftwork, a fashion show, Cuban dances and other activities she used to organize in the country.
According to Maritza Acuña, director of the institution, an artistic gala was held on Tuesday night, while a workshop to highlight Celia's work as promoter of museology has been scheduled for Wednesday, and over 300 papers on sciences will be given on the same day at the university hospital named after her in the city of Manzanillo, as announced by its director, Julio Fonseca.
Some of the women that participated with Celia in activities against the Fulgencio Batista dictatorship will speak about her, as well as other women students and combatants, at the staircase-museum dedicated to the heroine in that city.
A similar meeting and a political rally have been scheduled for the town of Pilon, where the Sanchez Manduley family lived from 1940 to 1956, and where the revolutionary joined the popular insurrection led by Fidel Castro.
Taken from AIN