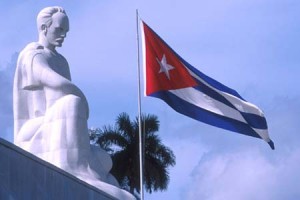 Wreaths by Fidel and Raul Castro were placed on occasion of the 117th anniversary of Jose Marti's death in combat, in Santiago de Cuba's Mausoleum, where the remains of the Cuban patriot rest on.
Other two were dedicated by the Cuban Council of State and Ministers and by the Cuban people in general. Patriotic pieces by trova artist Jose Aquiles were enjoyed bu the audience, along with the String Quartet of Oriente's Symphony Orchestra and Santiago's ballet performance.
Outstanding students from the military sector in Villa Clara and Havana participated in the Honor Guard as an acknowledgement to their preparation. Lizandro Iglesia, one of the alumni, said it was a privilege to pay tribute to our National Hero in the place where his remains rest on.
Jorge Suarez Perez, first secretary of the Cuban Communist Youth Union (UJC, for its Spanish acronym) in the Eastern province praised Marti's great devotion to his homeland and his outstanding values to unite people in a single cause: the fight for Cuba's Independence.
The leader added that the Cuban five antiterrorist fighters unjustly imprisoned in US soil have inspired on Jose Marti's work and ideals to resist the empire.
After the political and military ceremony ended, students, pioneers, workers, and Revolution combatants placed wreaths in tribute to the teacher, writer, poet and journalist.
Taken from AIN/Translated by Escambray