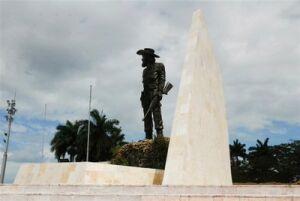 The nearly 60 members of the 54th Solidarity-with-Cuba Nordic Brigade coming from Sweden, Norway, Denmark and Finland, paid a visit to Camilo Cienfuegos Historic Complex where they met with members of the Association of Combatants of the Cuban Revolution.
An approach to the exploit turning Commander Camilo Cienfuegos into Yaguajay's Hero 53 years ago constituted the best farewell to the Nordic Solidarity Brigade which concluded Thursday its visit to Sancti Spiritus, in central Cuba.
The friends from Northern Europe arrived Monday in Sancti Spiritus while having met an intense exchange agenda conceived by the Cuban Institute of Friendship with the Peoples (ICAP)
The program allowed the visitors to travel to the nearby province of Villa Clara to pay a visit to Commander Che Guevara Memorial. They also toured the ancient city of Trinidad on Wednesday, precisely on the same day the village celebrated its 498th anniversary on January 4th.
After visiting Yaguajay on Thursday, the Nordic Brigade is to return to the International Camp Julio Antonio Mella, located in the Northern Cuban province, Artemisa, where they first arrived last December.