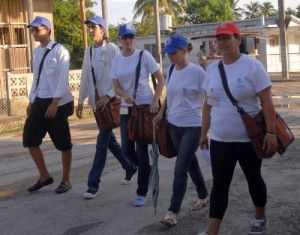 The fourth National Population and Housing Census undertaken after the triumph of the Cuban Revolution ends Monday in Sancti Spiritus, and in the rest of the country, with the closure of the enumeration of about 163 000 households, communities, and work places where people reside permanently.
According to forecasts by the Provincial Office which leads this statistic inquiry, more than 456,000 people should have been censused in the province by the 2,500 enumerators and 850 supervisors from the technical, vocational and higher teaching.
In order to ensure quality when applying the questionnaire, this young task force received a training seminar taught by some 140 supervisors in 25 sites intended for their intensive preparation.
When interviewed by Escambray, Deisy Arbelo Perez, head of the census in the Cuban central territory, said that the comprehensive investigation proceeds according to plan, following a serious organization and assurance process.
Perez Arbelo confirmed that between September 29th and October 8th a recensusing stage will take place, and a number of houses as well as other lodgings such as nursing homes and children without family support houses, will be revisited to assess the qualitative level of the information recorded.