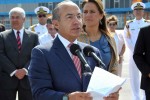 Mexican President Felipe Calderon said Wednesday that his country and Cuba began a fresh phase in the bilateral relationship thanks to the will shared to build new bridges of understanding cooperation.
In declarations to the press, just before traveling to Haiti from the airport Jose Marti in Havana, Calderon asserted that the friendship between the two peoples will always last beyond any situation.
They had been two extraordinary days for Cuba and Mexico where they have rediscovered their mutual affection; the president said when he was given a farewell at Jose Marti airport by Deputy Foreign Minister Rogelio Sierra.
First of all we have endorsed the mutual friendship of our peoples and governments, the head of state pointed out when he highlighted the success of his visit he proposed to redirect and strengthen the links between the two States.
After recalling that in a decade the bilateral trade nearly doubled from 200, 000, 000 dollars in 2001 to 374, 000, 000 last year, the Head of State made a call to increase the trade flows for the prosperity of the peoples.
When referring to his talks with the Cuban president Raul Castro, the visitor recognized they had an open and frank dialogue as it is for the leaders of two brotherly nations.
I reiterated Raul Castro Mexico's will to continue condemning the US blockade against Cuba for half a century, he said.
As part of Calderon's stay of almost a day, the two countries signed agreements on health, education, culture and sports, besides the signing of a letter of intent for possible oil exploration in Cuban waters.
Health agreements will allow the exchange of experiences in prevention, care, control and research on HIV AIDS, dengue and tuberculosis.
Meanwhile, the agreements on education, culture and sports will enable cooperation in the conservation and promotion of rich cultural heritage of both countries and encourage the massive and specialized practice of sport in both countries.
Cuba and Mexico Sign Agreements to Boost Cooperation
Cuba and Mexico signed agreements on cooperation in health, education and energy, the President Felipe Calderon stated on Thursday shortly before concluding his official visit to Cuba.
Speaking to reporters at the Jose Marti International Airport, in which he was accompanied by Deputy Foreign Minister Rogelio Sierra, Calderon said that in addition to the agreements on education and health, it was signed a letter of intent for Petroleos Mexicanos (Pemex) to explore in the Cuba's exclusive economic area.
When Calderon arrived in Havana on Wednesday expressed his intention to bring bilateral ties to the highest level.
We are interested in increasing cooperation in health, education, culture and sports, as well as sharing in the energy sector, he said. During his visit of 22 hours, Calderon met a tight agenda, which included a meeting with the host president, Raul Castro, and a tribute to Cuban National Hero Jose Marti at the Revolution Square in Havana.
(Taken from PL)