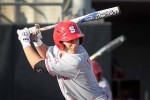 Cuba is to face Tuesday Chinese Taipei in pursuit of their first victory in the Harlem Baseball Week. So far their average goes to 190, with a 3, 71 ERA and a 971 defense, negative numbers they should improve if they are to move forwards in the event.
Cuba lost 5×2 to USA in their second presentation in the Harlem Baseball Week, the same team to which they held a friendly dual meet recently in Havana. They had previously been beaten by Puerto Rico.
The players from North America opened the score in the very first inning by solo homer of first baseman D.J Peterson before Cuba's starter Freddy Asiel Alvarez
In the third, Rusney Castillo got on base due to an error of USA third baseman, and then scored the tie thanks to Yuliesky Gourriel's double.
However, USA took the lead again at the bottom of the 3rd when Trea Turner shot a double, stole the third base and scored due to an error of Cuban catcher Frank Camilo Morejon.
The score remained that way until the 6th when Alfredo Despaigne shot a homer to tie actions 2×2.
Cuba's calvary would arrive in the bottom of the 7th. Short stop Kyle Farmer was beaten by Freddy Asiel and then scored by double of second baseman Turner before reliever Dalier Hinojosa. Turner himself scored the 4th due to single by Kris Bryant before Pablo Millan, and then Field, previously on base by walk, got the 5th for his team thanks to sacrifice fly by Jose Trevino.
In the 9th Cuban hopes remerged after double of Ariel Pestano, single of Rusney Castillo and walk to Guillermo Heredia, but then, with the bases loaded, Yuliesky Gourriel failed with fly to the center field while giving away out 27.
Cuba's next presentation will be on Monday before China Taipei in a game scheduled for 1:00 pm (local time).
Taken from Juventud Rebelde/Translated by Escambray