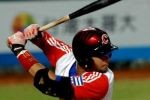 Cuba beat Japan 12×1 and moved forward in the 26th Harlem Baseball Week taking place in the Dutch city until upcoming Sunday. This, was the island's most powerful offensive display throughout the whole tourney.
Cuban batters shot 15 hits before a rival pitching needing 5 of its men. Reliever Norberto Gonzalez won the game. Cuban starter was lefty Dariel Nuñez while the man to close was Dalier Hinojosa.
Cuba scored runs in the 1st, 2nd, 4th, 6th and 8th innigs to finally knock out Japan, which brought over home plate only one by homer of Yoshiki ETo.
The most valuable player of the game was Cuban catcher Ariel Pestano (2-for-4, 2-run homerun, 3 RBI), who shot the 7000th hit in history of the tournament since it was created in 1961.
Sancti Spiritus Yuliesky Gourriel also had a great performance (2-for-4, double, 2RBI).
Cuba will face Netherlands in a game cancelled for Friday 1:00 pm local time.
Taken from Juventud Rebelde/Translated by Escambray