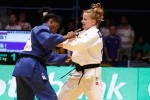 Cuban judoka Maricet Espinosa received the Ippon Trophy for her performance in the World Team Championship in Salvador de Bahia, Brazil, where her team won the bronze medal.
Cuban head coach Ronaldo Veitia told ACN from Brazil that the International Judo Federation, to grant this high award, took into account the results of the young athlete, who won four consecutive times by Ippon in the 63 kg in less than one minute each last Saturday.
Cuba defeated in preliminary rounds Algeria and Turkey, 5-0 and 4-1, respectively; they lost to Japan (1-4) in the semifinals and defeated Russia 3-2 in the bronze medal discussion, according to the website of the tournament.
Cuban team was also made up by the Olympic runner up in London 2012 Yanet Bermoy (52 kg), with three wins and one loss; Aliuska Ojeda (57 kg) (2-2); Onix Cortes (70 kg) (2-2),  Idalis Ortiz (+70 kg) (1-1) and Kaliema Antomarchi (0-2), in the same division.
Veitia explained that Ortiz, Olympic champion in London (+78 kg), couldn't compete against Russia because she had an injury on her left knee.
Cubans had 20 bouts, with 13 wins (10 by Ippon) and seven losses, said Veitia.
Japan won the tournament, China was second, and Cuba and Brazil got the bronze medals.