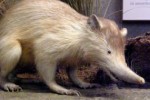 An expedition of Cuban and Japanese scientists found four males and three females of almiquí (Solenodon cubanus) in El Toldo plateau, in Alejandro de Humboldt National Park, between Holguin and Guantanamo provinces.
The endangered mammals were withheld 48 hours for research and released to their habitat, explained Rafael Borroto, from the Institute of Ecology under the Ministry of Sciences, Technology and Environment, as quoted by Granma daily on Saturday.
The expedition detected evidence on the potential presence of a larger population of the vulnerable insectivorous animal endemic of Cuba while a hidden camera filmed another individual.
Over the past 50 years there have been very few sightings of the specie, suggesting mild recovery of the scant population, said Borroto, who was accompanied by Masaka Kita and Satochi Ohdachi, from the Japanese Tsukuba and Hokkaido Universities, respectively.
Other members of the Japanese expert team include Osamu Hoson (Science and Nature National Museum); Osamu Takahachi (Wild Life Research Association) and Lazaro Echenique (Miyagi Education University).
(Taken from PL)