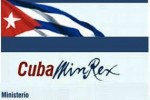 A statement issued Wednesday by the Cuban government described as amazing the solid unit of Latin America and the Caribbean regarding the exclusion of Cuba, the blockade imposed to it, and the Malvinas in the Summit of the Americas.According to the document, the new thing that took place in Cartagena de Indias, Colombia was that a great part of the governments, with natural differences and diverse approaches, asked for an alternative model that emphasizes solidarity and complementarity against a competition based on selfishness.
They made a call to recover the human condition of our societies and to rebuild a world that recognizes and respects the diversity of ideas, models and the democratic participation of society in the governmental decisions, including consulting the economic and monetary policies, the text reads.
According to the document, published in the Granma newspaper, it was called to fight illiteracy, infant and maternal moralities; and treatable diseases; it was also requested the access to free and truthful information and drinking water; and it was acknowledged the social exclusion and that human rights are for everybody in the world.
There took place, the document continues, a Latin American and Caribbean rebellion against the imposition of "a government and half" that exercised an imperial veto to the paragraphs of the draft of the Final Declaration, in which demanded the lifting of the blockade against Cuba and its exclusion from hemispheric events.
The text stresses the role of the Bolivarian Alliance for the Peoples of Our America (ALBA) that adopted a Declaration on the Argentine Sovereignty over the Malvinas, another one on the blockade and described as unfair and unacceptable Cuba' exclusion from the hemispheric meetings.
The document also highlights the stance adopted by several Latin American presidents like Evo Morales (Bolivia), Hugo Chavez (Venezuela), Daniel Ortega (Nicaragua) and Cristina Fernandez (Argentina) at supporting such topics.
Also emphasizes the stand adopted by the Caribbean countries which showed the stability of the Caribbean Community (Caricom) and left-wind forces; popular movements; union, youth and student organizations; non-governmental organizations gathered at the People's Summit.  (Taken from PL)