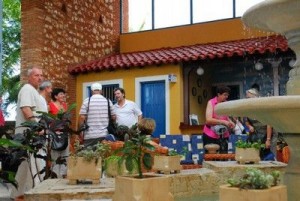 The arrival of foreign tourists to Sancti Spiritus amounted to more than 117,300 travelers at the end of August, equivalent to an increase of 7.6 percent over the same period of the previous year.
According to Reiner Rendon, delegate of the Tourism Ministry (MINTUR) in Sancti Spiritus province, this percentage is higher than the 5.2 reported in Cuba at the end of August.
The source revealed that the Trinidad-Sancti Spiritus pole saw an increase of more than 7870 foreign visitors, mainly from Canada, France, Italy, Germany and the UK.
Rendon said the result is backed by a more effective promotion of the destination Cuba, seeking to diversify the source markets and strengthen the already consolidated.
The executive also highlighted the enormous potential Sancti Spiritus product has, where the sun and beach tourism converge with nature's amid a special distinction: having two of the first founded Cuban villages, Trinidad, Cultural Heritage of Humanity, and Sancti Spiritus, National Monument.
MINTUR sums up in Cuba's central province about 1400 rooms run by the Hotel Group Cubanacan and the Islazul Chain.