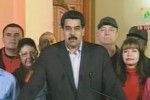 Hugo Chavez continues to progress from stable to favorable condition, said Venezuela's executive vice-president Nicolas Maduro.
The top government Venezuelan official made the announcement during the close of the electoral campaign of socialist candidate Tareck El Aissami in the state of Aragua.
Maduro recalled that as it was previously informed, a complication occurred due to a sudden bleeding during the surgical process, which was rapidly controlled, according to PL news agency.
Over the past few hours, the President has progressed from a stable to a favorable condition, which favors his increasing recovery, Maduro said.
The vice-president noted that thanks to Chavez Venezuela now is a better nation, though there is still more to be done and he asked the people to be better followers of Hugo Chavez.