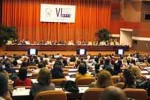 Achievements and perspectives of the Cuban penitentiary system aroused interest of experts from over 14 nations attending the 6th International Justice and Law Meeting, which enters second day on Thursday.
Other issues of the agenda will be labor sexual harassment, regulation of the judicial intervention in the Cuban agrarian process, penitentiary treatment in Peru, and crime prevention society, among other items.
During the opening ceremony on Wednesday, the president of the People's Supreme Court, Ruben Remigio Ferro, stated that Cuba prevents to mechanically extend to its procedural order some legal practices incompatible with its culture, values, idiosyncrasy, and the development level of the society.
Today, we have achievements such as direct citizen participation in giving justice, and judges' vocation to the strict observance of guarantees and rights of natural and legal people involved in legal processes.
Referring to the Cuban justice system, the president of the UN Latin American Institute for the Prevention of Crime and the Treatment of Offenders, Argentinian academician Elias Carranza, said the island has a more favorable situation compared with other regional nations.
In his speech during the event, which brings together more than 500 delegates and ends Friday, Carranza described as admirable the Cuban social process, with tangible successes in education, health, culture and sports. (Taken from PL)