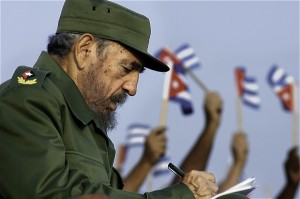 The historic leader of the Cuban Revolution Fidel Castro Ruz sent a message of congratulations to the "Victoria de Giron" Institute of Basic and Preclinical Sciences on its 50th anniversary.
In a statement read at the Aula Magna of the institution by Roberto Morales, Minister of Public Health, Fidel acknowledged the outstanding work of the entity in the development of Cuban medicine, and its cooperation with other countries in the midst of U.S. hostility.
He recalled that the opening of the school was in response to criminal action by the United States of luring most of the six thousand doctors Cuba had at the time of the triumph of the Revolution with promises of visas and employment if they were to leave the country.
The creation of the institute marked the beginning of the mass training of doctors. Just days after its opening the Missile Crisis began and the school, with its students, after a brief and intense training, became a strong antiaircraft unit, Fidel wrote in the message.
He also said that "in this spirit the tradition of the medical institution was born and grew. After the most critical days it was able to train tens of thousands of professionals and took our country to the highest levels of prevention and health".
Doctor Humberto Olivera, director general of the Institute, emphasized that the "Victoria de Giron" has been a model of the interaction between science and society, showing its complete integration with the social policy of the Revolution.
He also noted the impact it has had on the world the graduation of more than 70,000 Cuban and foreign specialists in these classrooms, helping to strengthen and enhance institutional cooperation between countries, together with the quality of life of many people.
During the ceremony, certificates of recognition signed by Fidel were given to workers, teachers and outstanding students, and some also were given the 50th Anniversary Commemorative Medal from the "Victoria de Giron" Institute of Basic and Preclinical Sciences.
The institution sent special recognition to Fidel, Raul Castro, and Jose Machado Ventura, First Vice President of the Councils of State and Ministers.