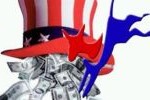 The United States (U.S.) has allocated funds valued at $20 million USD to promote subversion programs in Cuba, mainly dedicated to the supply of electronic technologies, charged the Cuban press here today.
A letter from the U.S. State Department addressed to the Congress, dated April 26 and reported by mass media, details the money trail for the fiscal year that concludes on September 30.
The objective of that public funding is not to benefit people, but to reinforce technological access for individuals who support the policy of "regime change on the island," facilitating network services and instruments exclusively for collaborators identified for those purposes, the Cubadebate website noted.
The funds will be administered by three entities from the State Department: the Latin American and Caribbean Office (LAC) of the USAID, the Office for Democracy, Human and Labor Rights (HRW), and Western Hemisphere Affairs (WHA).
The total is four million, and it will be used by LAC at a program for "digital democracy," to encourage the use of innovating technology," the letter stated.
The text does not offer details about the destinations for the money and technology, "to protect the programs from Cuba's attempts to stop them," although an employee from the Congress familiar with the case stated that it is meant to encourage the supply of computers, DVDs, USB devices and cell phones.
The letter was issued two days after the decision by the countries of the Bolivarian Alliance for the Peoples of Our America to expel the USAID from its territory, for constituting "a disturbance factor that threatens the sovereignty and political stability" of those countries.
Taken from Prensa Latina