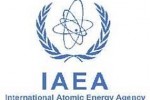 Cuba denounced at the Board of Governors of the International Atomic Energy Agency (IAEA) limitations on access to radioactive materials for health and food security as a result of the U.S. blockade on the island.
"I am obliged to report to the Board, once again, that our country also suffers in this sphere the serious consequences of the illegal U.S.-imposed economic, trade and financial blockade," Cuban representative in this forum Rodolfo Benitez said.
The Cuban governor at the agency recalled that the siege imposed by Washington for over 50 years, prevents third-country shipping dock in U.S. ports for six months if they have touched the island's ports.
This directly affects the supply of radioactive materials required in vital services provided to our people in areas of health and food security, to name the most significant, the ambassador stated.
Benitez urged the Secretariat to continue working, with the participation and cooperation of all State members in achieving effective transport of radioactive materials.
Cuba had reported this situation on March during a meeting of the IAEA Board of Governors, with a call for the staff member to remove undue restrictions on exports to developing countries of material, equipment and nuclear technology for peaceful purposes.
(Taken from PL)