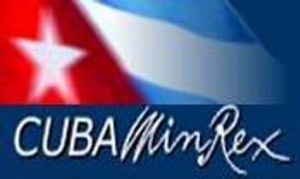 The Cuban government categorically rejected on Wednesday its renewed inclusion in the U.S. State Department's unilateral and arbitrary list of State Sponsors of Terrorism.
"Cuba's foreign ministry energetically rejects that such a sensitive issue as terrorism be used for petty political purposes and demands that the government of the United States stop lying,"  reads the statement.
Again, it is evident that the sole purpose of keeping Cuba on this list is to justify the policy of blockade against our country, and the future adoption of aggressive measures to strangle the Cuban economy and impose a regime that meets the interests of the United States, the Cuban Foreign Ministry added.
This time the US government used as pretext for Cuba's inclusion alleged "deficiencies" found in Cuba's efforts to uphold international standards for combating money laundering and the financing of terrorist groups.
Furthermore, the White House ignores the multiple and repeated calls from within the US to take Cuba, already subject to a full US economic blockade since 1962, off the terror list.
Taken from RHC