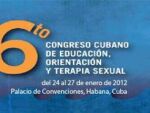 The 6th Congress on Sex Education, Orientation and Therapy will close in Havana on Thursday with debates focusing on diversity, social policies and sexuality in a changing world.
Since its inauguration on January 22, renown sexologists from the United States, Spain, Belgium, Ecuador, Venezuela, Mexico, Colombia and Cuba have contributed their expertise on transexuality, male chauvinism, masculinity, violence, AIDS/HIV, family, sex counseling, dysfunctions, adolescence, youth, and sex and the Internet, among other topics.
Experts described as outstanding the lectures given by Belgian psychotherapist Esther Perel on erotism and sex therapy and counseling with couples, and by Spanish specialist Oscar Guasch on male prostitution in southern Europe.
Mariela Castro Espin, president of the event, presented a research on sex education and social changes in Cuba. She explained that from the early stages of socialist transition, the state, health institutions and civil society have arranged national education programs.
However, it was a long process that began with a bio-regulatory conception that prioritized women and their reproductive function to gradually incorporate a comprehensive approach based on everyone's rights.