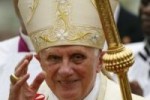 Cuba confirmed on Tuesday that Pope Benedict XVI will visit Cuba on March 26 to 28.  The Pope will arrive in the eastern province of Santiago de Cuba and he will be welcomed by Cuban President Raul Castro, informed the National Television News.
Later the Pope will visit the Sanctuary of the Virgen de la Caridad del Cobre, located in that province, whose effigy was discovered by a group of fishermen 400 years ago.
According to the program reported, Benedict XVI will then travel to the capital, where he will hold a meeting with Cuban bishops, a meeting with President Raul Castro and celebrate a Mass at Revolution Square. (Taken from PL).