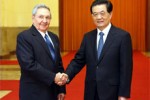 China and Cuba on Thursday vowed to further strengthen the existing friendly relations and cooperation. A series of key economic agreements were signed during the Cuban leader Raul Castro's ongoing visit to Beijing.
The sympathetic remarks were made during talks between Chinese President Hu Jintao and visiting President of Cuba's Council of State and the Council of Ministers Raul Castro Ruz at Beijing's Great Hall of the People.
During the meeting, President Hu called on the two countries to expand trade and economic cooperation, and to strengthen coordination and cooperation on major issues including the UN reform, climate change and sustainable development.
He also reiterated China's support for Cuba in maintaining its sovereignty and exploring a socialist way with its own national characteristics.
For his part, the Cuban dignitary praised the traditional friendship between the two countries and expressed Cuba's admiration for China's successful experience in national development.
Raul also briefed Hu on Cuba's domestic situation and the ongoing economic reform process.
Before the hour-long talks, the two leaders also witnessed the signing of several cooperative agreements, which included a grant and interest-free loan to the Cuban government for economic and technological cooperation.
Raul started his state visit to China on Wednesday, as part of an Asian tour, which will also take him to Vietnam.
Prior to his talk with Hu, Raul met with Chinese parliament president, Wu Bangguo, who vowed to enhance exchanges with Cuba's legislative body.
Other Chinese leaders, including Premier Wen Jiabao, Vice President Xi Jinping and Vice Premier Li Keqiang, will also meet with Raul during his four-day visit. (Taken from RHC)